How much costs the pre-purchase inspection of a house? The best rate for a building inspector
You wish to buy a new property? A pre-purchase inspection is essential to avoid unnecessary surprises like unsuspected major construction work. In this article, you'll learn all there is to know about the role and costs of a building inspector.
1. What is the price of a pre-purchase inspection?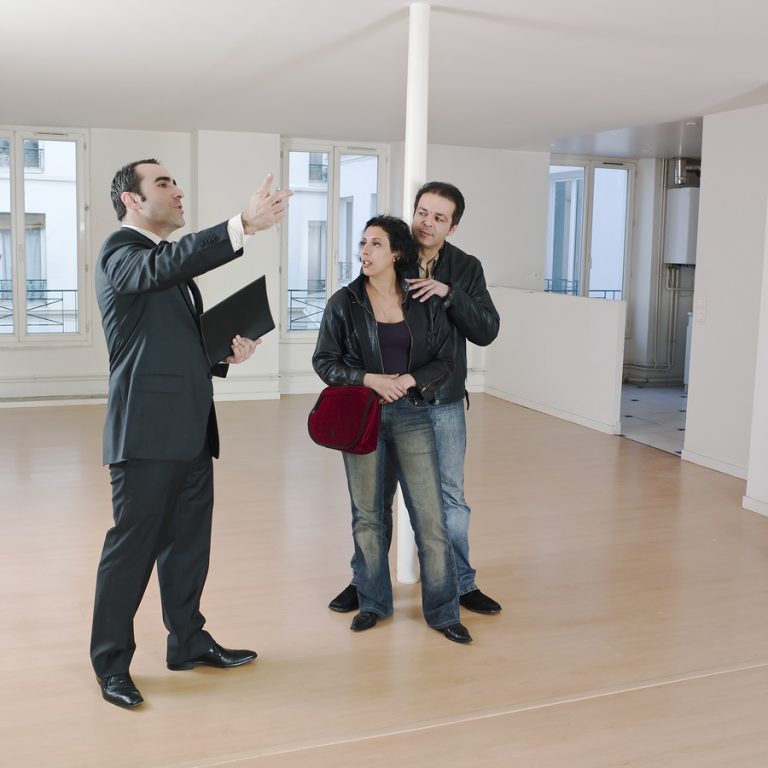 It's important to note that there is no fixed rate for a pre-purchase inspection in Quebec. Prices vary from one region to the next.
For a residential property (or undivided condo), you can expect to pay around 400$ or 600$ plus tax for a pre-purchase inspection. Some inspectors can charge an additional 50$ if the house is over 50 years old.
For a condo (divided), you'll generally pay less (between 400$ and 500$ plus tax). Condos are usually smaller than a house so the inspection requires less time and you save on the home inspector's fee.
An apartment building's inspection is worth between 450$ and 550$.  Add a 50$ extra per apartment.
The inspection cost for a multiplex fluctuates according to the number of apartments it houses. Expect a fee between 500$ or 700$ for a duplex and about 700$ or 800$ for a triplex. As for the inspection of a quintuplex, the rates can go up to 900$.
It's also possible to submit only a part of your building to an inspection.
A pre-purchase inspector generally charges between 150$ and 200$ to conduct the inspection of the roof or the attic or to examine the property's exterior grounds.
The inspection of the foundation drains and the detection of heat loss (thermal inspection) cost on average between 200$ and 300$.
If you own a garage (outbuilding) and wish to have it inspected, it's possible inspectors will charge an additional sum ranging from 25$ to 50$.
Keep in mind that the inspection's price can vary if the property requires more elements to be verified by the inspector. The amounts previously mentioned are indicative only and were only meant to give an idea of the usual fees.
2. What needs to be verified by the building inspector?
A ton of elements are analyzed when you hire a building inspector. He verifies the structure and also evaluates your health risks.
Here are some examples of what should be examined: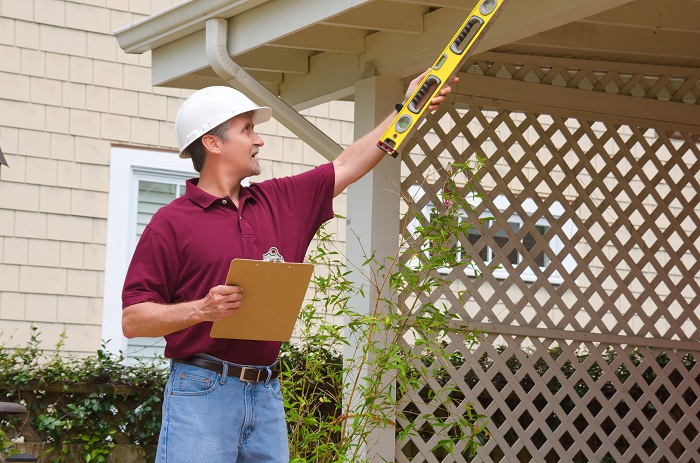 Cracks in the walls can be really problematic or just superficial. Thankfully an expert can make the distinction between the two. There is a world of difference between damaged gyp roc and a structure which can collapse at any time in the medium to long term. This is notably the case for pyrrhotite present in concrete.
3. Why is it worth it to hire a building inspector for a pre-purchase inspection?
Real estate transactions imply transfers of large sums of money which have a considerable impact on people. It's therefore essential to obtain a detailed analysis of the property's state, much like we would proceed with a used car needing to be inspected by a garage owner.
The Canadian Association of Home and Property Inspectors (CAHPI) mentions
"Homebuyers, home sellers, homeowners, or anyone who wants to make an informed decision about a house or property based on objective information deserves a professional CAHPI home inspection"
In Quebec, building inspectors aren't subject to specific regulations as are the real estate brokers for instance. This lack of legislation less than guarantees the quality and consistency of the services offered, which makes your inspector's choice the more difficult.
By filling out the quotes form on this page, you'll promptly receive three (3) free quotes from building inspectors in your area.
It's a no obligation service.

By clicking on this button I accept the terms and conditions.
It is recommended to take the time to study well the service propositions received. Do not make the mistake of only comparing prices. It's important to factor in: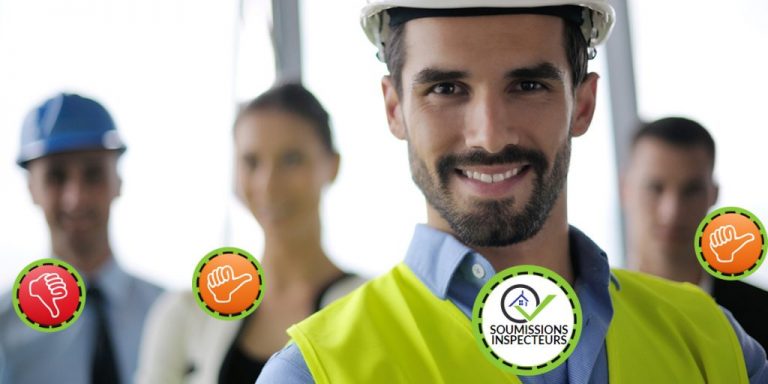 9 criteria to choose a good building inspector:
1. How much time has he spent inspecting buildings?
Does he possess the required experience in the matter?
Experience is directly proportional to his capacities and knowledge of the home inspection's domain, therefore to the reliability of the inspectors who answered your quote request.
2. What's his specialty?
A residential building includes, on top of single-family home, multiplexes (duplex, triplex … which count less than 3 floors and possess a surface of less than 600m² excluding the basement), condos (divided or undivided), buildings which are 40% for commercial use and 60% for residential use, etc. Which field of expertise is practiced by the inspectors who answered your request?
3. What does he verify?
A quotes request duly filled out should include the inspected elements inside and outside the house. Is the pre-established list of elements to inspect (OACIQ approved) followed?
4. How much time is required for a pre-purchase inspection?
You should allow a minimum varying from 2 to 3 hours for a property's pre-purchase inspection. More time could be required for an older or bigger house or if you have specific requests.
5. Is your presence encouraged during the pre-purchase inspection?
The Home Inspection Quotes experts know that you'll have the opportunity to clarify some points to understand the final report if you're on the premises during the pre-purchase inspection.
6. Does a building inspector receive regular professional updates about his trade?
It shows professionalism, a high degree of knowledge and a great interest in his work if a building inspector decides to stay up to date about his trade by following a continuous training program.
7. Is the building inspector member of a known association?
If that happens, an eventual complaint should be taken into consideration. For example, if the building inspector is also a construction contractor and he offers you to make the repairs or the required improvements, there is a conflict of interests. You could denounce the situation to his association.
8. How is the pre-purchase inspection's report drafted?
An inspection report must be clear, precise and very detailed. Ask to have a look at previous pre-purchase reports and verify if the client's names have been removed from view for confidential purposes.
A pre-purchase inspection's report must be professional because it constitutes a legal document in case of a lawsuit.
9. Is the inspector covered by insurance in case of errors, omissions or mistakes?
Ask for a proof of that insurance, it will protect you by guaranteeing he will assume the responsibility of a mishap done during the inspection.
In conclusion, should we attempt an inspection on our own to save a bit of money? NO! Even if you know a fair bit about construction, too many factors need to be considered in order to provide a fair analysis and a credible and detailed report.  A major detail could pass you by which would cost you a fortune in the end.
We recommend you to choose an inspector member of the Québec Association of Building Inspectors or the Canadian Association of Home and Property Inspectors. These associations exist to ensure the quality of services rendered.
Do you know all the existing infractions to the code and the building standards law? The list is long so don't take any chances!
4. Compare the prices for your pre-purchase inspection right now!
With Home Inspection Quotes, you quickly obtain up to 3 free quotes from qualified building inspectors in your region. We have business affiliates all around the province.
Montréal
Laval
Verdun
Pointe-aux-Trembles
Mirabel
Blainville
Repentigny
Québec
Lévis
Gatineau
Sherbrooke
Chicoutimi
Jonquière
Trois-Rivières
Nicolet
Maskinongé
Louiseville
etc.
You won't ever have to worry about the qualifications of your inspector if you select our services. Our affiliates are competent and reliable experts in the domain so that you can experience peace of mind. There is no obligation required on your part.
Since our partners are also rivals, it guarantees you'll receive the best offers at very competitive prices. You save time and money with Home Inspection Quotes.
Contact us right away via the form on this page to receive detailed quotes that could make you save a lot of money.

By clicking on this button I accept the terms and conditions.